I stand and watch as people wander to and fro through the Praça da República, the square in old-town Sintra, Portugal. Everyone's looking around, but not always looking in front of them. I step aside quickly as a German couple in heated debate barrel towards me.
Spying the Café Paris, I make a bee-line over the cobbles towards it.
The hostess greets me, and I tell her that I'm interested in brunch. She motions me over to the pastry counter. "We have pies with chicken, shrimp or cuttlefish, and several delicious sweet pastries."
I think about having sweets for breakfast but decide that maybe I'll have the shrimp pie and a hot chocolate instead. OK, it's an odd combination, but I'm on my first-ever destination writers' retreat. Anything goes.
"So, if you were to have a sweet pastry, which one would you choose?" she asks.
We both gaze at the myriad confections in front of me: pastel de nata, éclair, tarte de amêdoa. My eyes light on the travesseiro de Sintra — a local specialty that resembles a pastry pillow and is filled with almond paste and cream.
"I think that one." I grin. "But I'll wait till another time."
She winks at me and shows me to a table in the sun.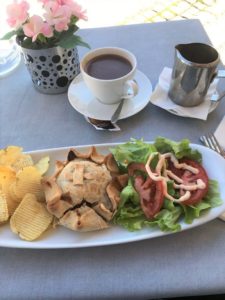 My hot chocolate soon appears, and I sip while writing in my journal, trying to capture the magical feel of this place. A few seconds later, my shrimp pastry appears. I break the flaky crust open and the scent of spices and shrimp waft up to me. I eat it with gusto, savouring each bite as I watch the school children and tour groups traipse through the square.
I feel a contentment in my core that has been missing for a while, and realize: I'm having my Shirley Valentine moment.
I call a young waiter over. He sees the phone in my hand.
"I take your picture," he states rather than asks.
"Please."
He steps back, and I smile, wondering if the camera will show how big my happiness feels. Once he's snapped a few photos, he pointedly stares at my journal.
"You are writing about your trip?" He nods, clearly having seen this before.
I say yes and add, shyly, "'I'm a writer."
It's the first time I've voluntarily offered this info outside of a writing group. It feels momentous.
"Oh my god, that must be painful," he groans. "All that writing, of all those pages." He shakes his head. "This I cannot do."
He grins, and his charm warms my heart.
"One more picture," he says. "The beautiful writer in beautiful Sintra."
My smile is even wider than before.
Seconds later, the hostess slides a dish with a warm travesseiro de Sintra in front of me. It's accompanied by a scoop of mango sherbet and a flourish of whipped cream. She winks again.
This morning, my last in Sintra, has been my favourite so far.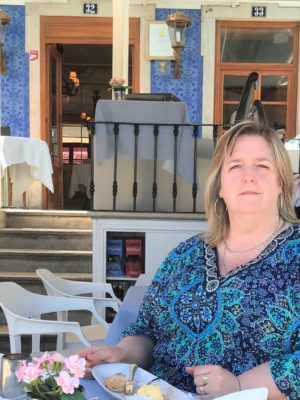 SANDY KENYON is a writer focusing on short stories and autofiction. In the last two years, she has learned that writing needs a more central place in her life. She has just returned from a writers' retreat in Sintra, Portugal, where she worked with other writers honing their craft. Sandy, who lives in Kitchener, Ontario, has driven across Canada several times, travelled to Cuba and Portugal, and in the U.S. has explored 16 southwestern states. More of her work can be found on Quick Brown Fox.com, CommuterLit.com, and on her blog, It's a Life.
This post originally appeared on Sandy Kenyon's blog, It's a Life, and is reprinted here with her permission.
§
Sandy Kenyon was one of 12 writers who participated in Allyson Latta's writing & yoga retreat, March 8 to 15, 2019, in Sintra, Portugal. Sintra is located 33 kilometres north of Lisbon in the foothills of the Sintra Mountains.